Where tiny patients receive big care.
When it's time to care for the health and wellbeing of you and your family, the health professionals at MedLink are ready to help. Our goal is to partner with you to achieve the best health for your child, and to provide a comfortable experience for them while in our offices. MedLink's team of providers are dedicated to serving even our tiniest patients as they work closely with parents to deliver quality care. We provide comprehensive healthcare for children ranging in age from infancy to adolescence and into young adulthood. Our pediatrics team offers a full range of services for children from well child exams, treatment of illness or injuries, sports physicals, immunizations, dental services, behavioral health and more.
Kathryn McCusker, MD
Service: Pediatrics
Kelly P. Montgomery, MD
Service: Pediatrics
Jorie Muraida, DO
Service: Pediatrics
Nirdesh Sharma, MD
Service: Pediatrics
Margaret Sherman, MD
Service: Pediatrics
Jeralyn Smith, MD
Service: Pediatrics
Akilah Tomingas, MD
Service: Pediatrics
Meredith Udell, MD
Service: Pediatrics
While we see pediatric patients at all our locations with our family medicine providers, we have board certified pediatricians at the following family health centers:
Colbert

Danielsville

Winder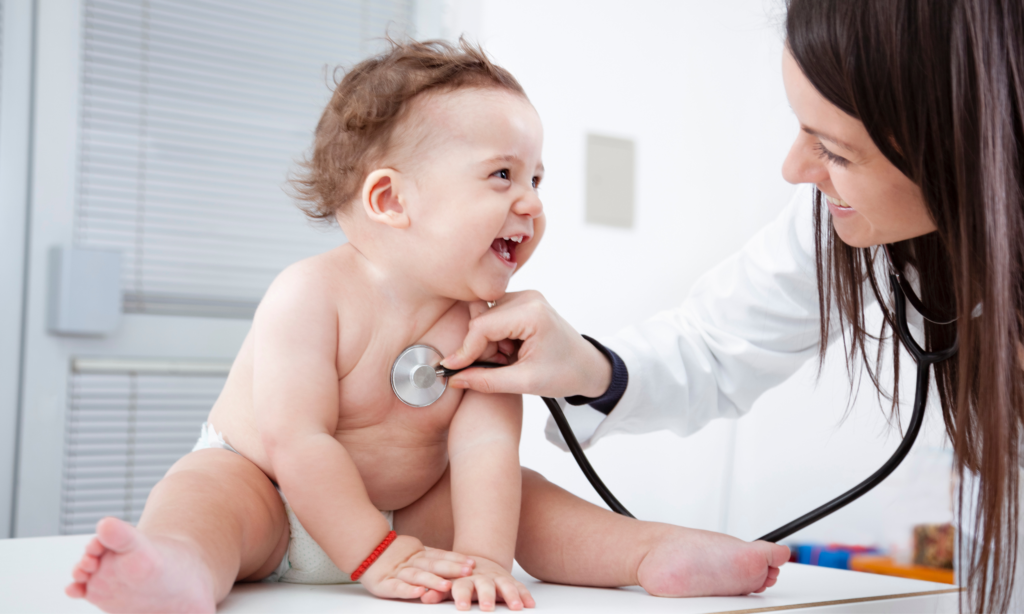 Dental Care
MedLink Georgia offers pediatric dental services at our MedLink office located in Danielsville, GA. We accept most insurance plans including Medicaid and offer financial assistance for uninsured or underinsured families who qualify for our Sliding Scale Discount Program.
Counseling Services
MedLink Georgia's behavioral health therapist work as part of an integrated care team along with MedLink providers to offer quality behavioral healthcare for children ages 4 & up.
Tylenol (Acetaminophen) Dosing Chart
Tylenol gave every 4 – 6 hours as needed for fever/pain.
Do NOT give if the child is less than 3 months old without speaking to a Pediatrician first!

Advil/Motrin (Ibuprofen) Dosing Chart
Advil given every 6 – 8 hours as needed for fever/pain.
Do NOT give to any child under 6 months of age!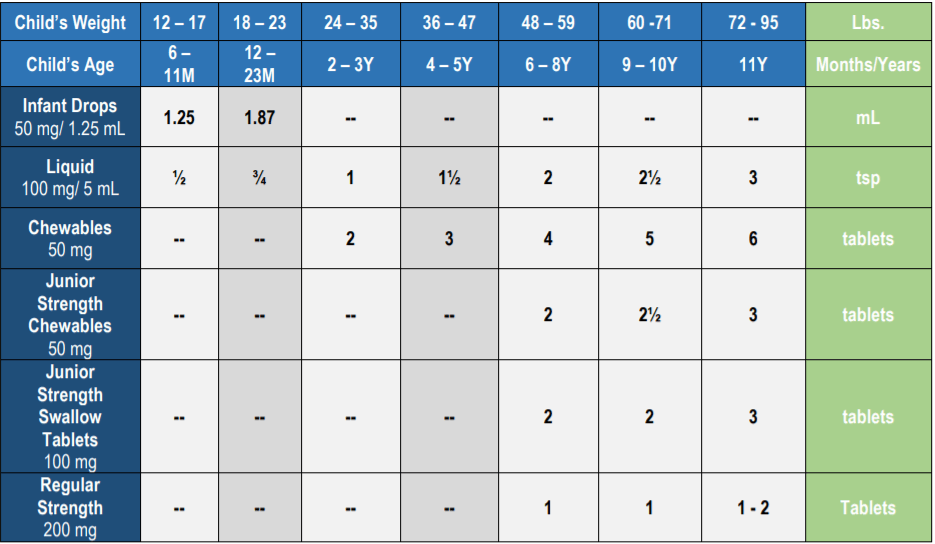 Benadryl (Diphenhydramine) Dosing Chart

Treatment of Allergic Reactions, Nasal Allergies, Hives, and Itching:
AGE LIMITS For ALLERGIES, don't use under 1 year of age. Reason: it causes most babies to be sleepy. For COLDS, not advised at any age. Reason: no proven benefits. It should not be given if under 6 years old.
DOSE Find the child's WEIGHT in the top row of the dose table. Look below the correct weight for the dose based on the product you have.
MEASURE THE DOSE Syringes and droppers are more accurate than teaspoons. If possible, use the syringe or dropper that comes with the medicine. If not, you can get a med syringe at drug stores. If you use a teaspoon, it should be a measuring spoon. Reason: regular spoons are not reliable. Keep in mind 1 level teaspoon equals 5 mL and that ½ teaspoon equals 2.5 ml.
ADULT DOSE 50 mg
HOW OFTEN FOR UNDER 6 YEARS Repeat every 6-8 hours as needed. (Exception: do not use under 1 year unless directed by provider).
HOW OFTEN FOR 6 YEARS AND OLDER Repeat every 4-6 hours as needed.
HOW OFTEN Repeat every 6 hours as needed.
CHILDREN'S BENADRYL FAST-MELTS Each fast-melt tablet equals 12.5 mg. They are dosed the same as chewable tablets.